Smoke alarms save lives - the real stories
Smoke alarms save lives - the real stories
Time and again the Fire & Rescue NSW has emphasised the importance of installing and maintaining smoke alarms in all homes, as they literally save lives. Here is a brief synopsis of some recent incidents where smoke alarms have been credited with alerting families to fires in their homes and allowing them to escape unharmed.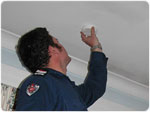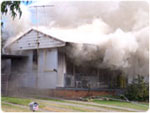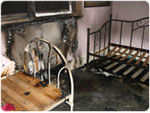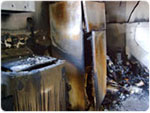 June 06– at 3.15 am the smoke alarm in a Mayfield house starts to ring. An appliance had caught alight and the fire was fire raging through the kitchen. The smoke alarm wakes a man and his young son who flee from the building. Both are treated for smoke inhalation; they both survive.
June 06– a mother and her one-year old son are fast asleep when a smoke alarm sounds in their Wetherill Park home. A fire in an air conditioning unit triggers the alarm, which wakes the mother and allows her and her son to escape unharmed.
June 06 – a person walking their dog in Emu Plains one evening hears the sound of a smoke alarm inside a neighbour's villa. They call Triple Zero. Firefighting crews arrive, conduct a search of the premises and find a 76 year-old resident unconscious in her bedroom. She recovers. Relatives had only checked the smoke alarm in the villa three days prior to the fire. They are extremely happy they did.
May 06 – two residents of a house in Shoal Bay are asleep in bed and are alerted to the fire raging in the upper storey of their three-storey home by the sound of a smoke alarm. Both escape unharmed.
May 06– the elderly occupants of a home in Gladesville are fast asleep when a fire begins. The high pitched sound of the smoke alarm wakes them in time to extinguish the flames and escape.
April 06– a Moss Vale couple is awoken at around midnight to the sound of the smoke alarm and find that their lounge suite on their front porch is on fire. Both escape unharmed. The husband tells the local newspaper: "Without it (the smoke alarm), we wouldn't be standing here."
April 06– seven-year old twin children are awoken by the sound of a smoke alarm in their home in Koonawarra. They see their fridge is on fire and go and wake their mother and older sister. All escape unharmed.
April 06– the female occupant of a house in Sadlier is asleep when she is suddenly awoken by the smoke alarm. The kitchen and laundry are ablaze. She survives.
April 06 – an electrical fire begins in a home in St Andrews. A mother, her daughter and a baby are alerted to the fire by the smoke alarm. All survive.
April 06– a woman is woken by the beep of the smoke alarm in her home in East Dubbo. She, her husband and three young sons use the home escape plan that they had previously prepared and practised. The husband is quoted in the local newspaper: "There's no other way to say this – if I didn't have a smoke detector put in, I wouldn't be alive, neither would my wife and neither would my kids."
February 06– neighbours hear a smoke alarm operating in a unit in Bulli and call Triple Zero. Fire crews arrive, enter the premises, and wake the occupant. The fire is traced to the kitchen where food cooking in a griller had ignited. The occupant survives.
January 06– a mother and her three children are asleep in their home in Lindfield when a bedside lamp in the room of the youngest child catches alight. The piercing sound of the smoke alarm in the hallway wakes the other members of the family. The child is dragged off her bed by her brother and taken to safety. All survive.
There are, of course, other, far less heartening stories, where people have been injured or have died as a result of house fires where smoke alarms were either not installed or the batteries were missing. Fire & Rescue NSW statistics show that, in 2005, 37 people were killed in home fires. There was no smoke alarm in 71% of the homes where the fatal fires occurred, and there are questions over whether the alarm was working in many others.
On 1 May 2006, legislation came into effect requiring all places where people sleep to have smoke alarms.
Don't wait to install a smoke alarm – the life you save could be your own.