Six new Inspectors for the NSWFB
Six new Inspectors for the NSWFB
Five new inspectors received their white helmets and epaulettes from Commissioner Greg Mullins in ceremonies held on 6 and 23 November 2007. Those promoted were Inspectors Murray West, Rob Jansen, Drew Wilson, Gary Meagher and Graham Jarrett. Inspector Greg Reid was interstate and hence unable to attend the presentation.
Commissioner Mullins said that all five officers were a credit to the service. "Murray, Rob, Graham, Gary and Drew have gained substantial experience in a variety of roles during their careers in the NSWFB. Their promotion to Inspector is well deserved and their skills and experience are a major asset to the Brigade."
Inspector West began his career in the NSWFB at Toongabbie in 1985 and subsequently served at Penrith, St Marys and Dunheved Fire Stations. He became Relieving Station Officer in 2004 based out of Huntingwood before becoming Station Officer at Cranebrook. He was appointed as an Inspector on 5 October and is currently Relieving Duty Commander for MW2 based out of Parramatta.
In 1985 Inspector Jansen started his firefighting career at Burwood. He then spent 10 years as a Relief Firefighter rotating between Parramatta, Smithfield and Cabramatta. He completed the Station Officer exams in 1996 and served stints as Station Officer at Parramatta, Guildford, St Marys, Huntingwood and City of Sydney.
Since his promotion to Inspector on 5 October, he has been Relieving Duty Commander MS3 based at St Andrews.
Inspector Wilson began his career in 1985 at City of Sydney, followed by 10 years each at both Busby and at Cabramatta where he was promoted to Station Officer. This was followed by short spells at Parramatta and City of Sydney. He will now be Relieving Duty Commander for ME3 based out of Ashfield.
Inspector Meagher started his firefighting career at Kogarah in 1984 and subsequently served at Newtown, Stanmore, Kogarah. and Hurstville. He was promoted to Station Officer in 2003 based out of Burwood before moving to City of Sydney as Flying Officer and then Rescue Officer. He is now Relieving Duty Commander for ME1.
Inspector Jarrett joined the NSWFB in 1987. He worked at City of Sydney, Auburn, Cabramatta, St Andrews and Campbelltown. He took the SOPP in 2004 and then served at Liverpool followed by time at Campbelltown, Fairfield and Rosemeadow. He has now been appointed Relieving Duty Commander MS3 based at St Andrews.
Inspector Reid joined the NSWFB in 1976 and served at City of Sydney and Redfern before spending 12 years at Alexandria. In 1994 he was promoted to the position of Station Officer and relieved out of Bankstown before working at Lidcombe. In 1998 he was appointed Station Officer at the Hazmat Unit , Greenacre, where he had the opportunity to travel to Canada and train with Canadian fire services in dealing with chemical and biological warfare agents. He is now a relieving Inspector at City of Sydney.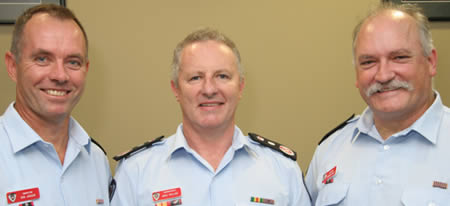 L to R: Inspector Rob Jansen, Commissioner Greg Mullins and Inspector Murray West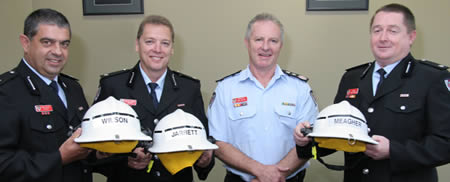 Newly-appointed Inspectors Wilson, Jarrett and Meagher receive their helmets from Commissioner Mullins

Story by Peter Scott, Public Affairs Officer

Photo by Jan Crombie-Brown, Photographer