Household chemical safety
Household chemical safety
Poisons information line: 131 126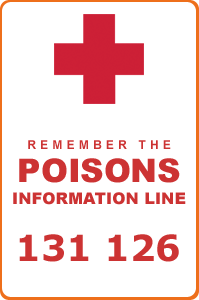 Many chemicals found in the home are potentially dangerous. These include cleaning fluids, garden fertilizers and pest control products, paint, petrol, swimming pool chlorine and many more.
Household chemical safety
Many accidents occur due to unsafe storage practices and inappropriate usage. For a simple checklist on storing household chemicals safely see Safe chemical storage.
Garage/Workshop chemical safety
We often think we know how to use and store these garage/workshop chemicals and don't read the safety information. Many accidents occur due to unsafe storage practices. Learn about how to safely store and use these types of chemicals.
Pool chemical safety
Swimming pool chemicals are reactive. If accidentally mixed with other chemicals, the mixture can become unstable and produce poisonous fumes or even fire. Learn how to safely store pool chemicals.
Household pesticides, herbicides and fertilizers
Fertilizers, rat poison and weedkillers are usually stored in garages or workshops, but fly sprays and insect repellents are often left within easy reach of children: under sinks, in cupboards or on benches. Chemicals may be toxic, flammable or may react violently when mixed. Read our tips on safely storing household pesticides, herbicides and fertilizers.
Dispose of old chemicals safely
There are a range of chemical products that must be disposed of correctly. For more information on what products you need to take care with and how to dispose of these items see Chemical disposal.