Recruitment
Casey Burgess
Casey Burgess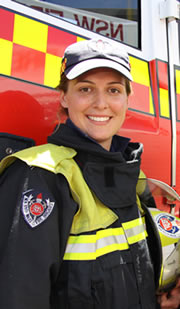 Being a firefighter is an adventure for Casey Burgess
Not everyone looks forward to going to work each day but Firefighter Casey Burgess enjoys each shift at Lidcombe Fire Station.
Firefighter Burgess, 24, has been a firefighter for just over a year and she graduated as a teacher at the end of 2013.
The nature of firefighter shifts at Fire & Rescue NSW (FRNSW) has allowed the Erskine Park resident to complete her studies and will enable her to work casually as a teacher this year.
"I wanted to become a firefighter when I left school but I didn't get in straight away so I went to uni," Firefighter Burgess said.

Firefighter Burgess studied exercise science before she applied again and got in.

"I love it. It's exciting and rewarding. I love going to work each day and really enjoy my job," she said.

"We're a close knit team at Lidcombe Fire station and we all look out for each other."

These days Firefighter Burgess is busy attending shop fires and a handful of big factory fires.

She said she was really glad she applied.

"Personally, I was hesitant when I was going to apply because I didn't want to fail but you aren't going to make it through unless you try. Just don't put all your eggs in one basket."