Recruitment
Erin Pogmore
Erin Pogmore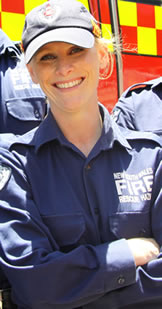 Being a firefighter is an adventure for Erin Pogmore
She may only be five foot and weigh little more than 50 kilograms, but Firefighter Erin Pogmore holds her own on the fire ground.
The 31-year-old said she loved being a firefighter.
"I'm only five foot three and 50 kilos dripping with sweat. A lot of people told me I didn't have the build but I did it – I joined Fire & Rescue NSW as a firefighter. Best thing I've ever done and I've never looked back," Firefighter Pogmore said.
Having worked as a bank manager and for the NSW Department of Community Services and the NSW State Emergency Service, Firefighter Pogmore said she woke up one morning and went, "I think I want to be a firefighter".
Fifteen months and three days later she applied. After graduating from the State Training College at Alexandria in Decemberber 2012, Firefighter Pogmore has been based at Redfern Fire Station.
Over the past six months she's attended some 2013's biggest incidents, including the Blue Mountains bushfires in October, the paper factory fire at Matraville and the electrical fire in a Bathurst St building last September.
She said she enjoyed the variety of work.
"Every time the bells go off I get excited," she said.
"I've got a really good crew and you meet a lot of people in the community, which I enjoy.
"If you are even considering it then you should definitely apply and make sure you start training straight away. You can be really fit but if you aren't use to training when you are really hot you will be in trouble."