Recruitment
Jason Hardy
Jason Hardy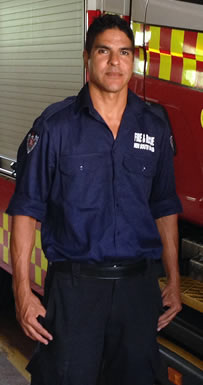 Firefighting runs in the family
Firefighting runs in Jason Hardy's blood.
Jason, his older brother Stephen, and his twin brother Grant are all Fire & Rescue NSW firefighters who have been working in and around Sydney for more than a decade.
Jason, who has been on the job for 12 years, said it was his older brother that initially alerted him to the opportunities available in FRNSW.
"My brother always talked about how great the job was so when the 2001 recruitment campaign came around, I decided to give it a go," Jason said.
"I was working in customer relations and was pretty happy, but I felt I needed a new challenge and a job with something more to offer."
Jason is a Senior Firefighter stationed at Glebe in Sydney's inner west. The station has a normal fire fighting appliance as well as a 27 metre ladder platform that Jason is qualified to drive and operate.
"The job is always challenging," Jason said, "you are often placed in situations that the average person would never experience and you have the opportunity to develop skills and undertake training that you just can't get anywhere else."
"You also have the chance to help the community and interact with them in a really unique way."
For the last few months Jason and the crew at Glebe have been the subjects of a documentary series and he said the presence of a film crew is a unique challenge.
"You just try to do your job and pretend they're not there, but it can be hard sometimes," he said, "It definitely takes a while to get used to."
Jason admits that the recruitment process can seem daunting for applicants, but said that research and preparation make the process a lot easier.
"It's really important that you prepare both physically and mentally for the recruitment process. I spent a lot of time on the website to learn more about the organisation and the work that it did."
"I also did a lot of physical training and visited a fire station to familiarise myself with a fire station, the equipment and the role of a firefighter," he said.
Jason said people are drawn to fire fighting for many reasons, but he believes the keys to being successful in the job are having grace under pressure and team work.
"As a firefighter, you deal with situations that are confronting and at times stressful, so it's important that you can remain calm under pressure," he said.
"The ability to work as part of a team is also essential, because when you respond to incidents, you have to be able to rely on your team to get the job done, and they have to be able to rely on you."