Recruitment
Patrick Nguyen
Patrick Nguyen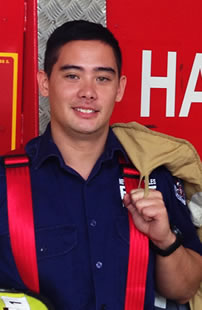 Parachuting in to a new Career
As a parachute rigger in the Australian Army, Patrick Nguyen learned to pay attention to the little things.
The 26-year-old spent four and half years in parachute maintenance and was required to inspect, pack, service, repair and then test jump the Army's fleet of parachute rigger systems.
Making a mistake had serious ramifications.
Patrick, who has been a firefighter with Fire & Rescue NSW for almost a year and a half, said the skills he developed during his time in the Army have transferred well into the daily life of an operational firefighter.
"I think that some of the characteristics that make a good firefighter are motivation to complete tasks, a fit lifestyle, the ability to follow directions and the ability to socialise and interact with many different people," Patrick said.
"I think these are skills I picked up during my time in the military and they have transferred well into Fire & Rescue.
"The attention to detail will particularly come in handy once I can be trained in HAZMAT," Patrick said.
Patrick is based at Chester Hill Fire station, in Sydney's west. On top of the usual workload, the station that has a specialist hazardous materials response- or HAZMAT- capability
"I can't do my proper HAZMAT qualifications for a few years, but just being at the station has exposed me to the types of complex incidents they respond to and just helping out is a great way to pick up new skills," Patrick said.
"My role here is to assist and educate the community in matters that are perhaps beyond their control or expertise."
"We do fire safety and prevention work, go to motor vehicle accidents, respond to automatic fire alarms and of course extinguish fires, just to name a few."
Patrick, whose mother is Australian and father is from Vietnam, said he joined FRNSW seeking a long-term career that offered variety, satisfaction and was well respected.
"I enjoy the variety that comes with the job. Each time you respond, the incident and the people at the scene are completely different from the last one."