Recruitment
Tara Lal
Tara Lal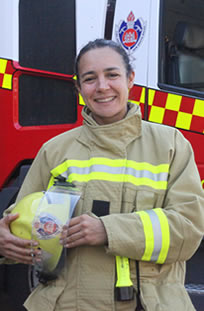 Being a firefighter is an adventure for Tara Lal
Not everyone looks forward to going to work each day but for Senior Firefighter Tara Lal, each shift at Woollahra Fire Station is an adventure.
Senior Firefighter Lal has been a firefighter for nearly nine years and she is also a physiotherapist with her own mobile physiotherapy business.
The nature of firefighter shifts at Fire & Rescue NSW (FRNSW) has allowed the 42-year-old to do both.
Firefighter Lal first studied physiology in Edinburgh before she travelled to Australia where she started a physiotherapy degree. She worked as a physio before graduating from FRNSW's State Training College at Alexandria as a firefighter.
"When I was at uni in Edinburgh I did a career questionnaire and my number one career was a firefighter and number two was a physiotherapist," she said.
"Being a firefighter is something that's full of adventure and you're helping the community and working in a team, which I love," Firefighter Lal said.
"I've never had a job before where I look forward coming to work. A lot of that's about the environment in the fire brigades and the people that you work with."
Firefighter Lal said it was a very physical job and she worked hard to maintain her strength and fitness levels.
"I work hard to stay strong and fit and it is hard."
As the only female on her shift at Woollahra Fire Station, Firefighter Lal said she enjoyed the camaraderie of her colleagues.
"We all look out for each other and respect each other," she said.
Firefighter Lal rows surf boats for Elouera Surf Lifesaving Club and also enjoys travelling and outdoor sports. She also just finished writing a book about mental health and also volunteers with FRNSW's Critical Incident Support Program. She said she was motivated to write the book both as a result of her work as a firefighter and following her own brother's suicide.
"It's definitely been a cathartic experience," she said.