Recruitment
Dimitrios Taousanis
Dimitrios Taousanis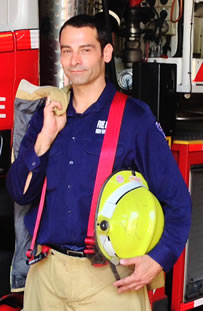 Rising to new career heights
Standing on a small, rocking platform, 30 metres above a burning building gives you a unique view on the world.
It is a view that Dimitrios Taousanis never expected, but it is one that has become so familiar, he likens it to staring out the office window.
"I've never had a problem with heights and even with the smoke and wind and heat, it's quite calm up there," said Dimitrios a nine-year veteran of Fire & Rescue NSW.
"You just get up there and deal with the job at hand," he said, "just like going to your desk each day."
Dimitrios, known as Jim to his friends, is based at Glebe fire station in Sydney's inner west. As well as responding to incidents on Glebe's regular fire engine he is also a trained aerial appliance operator, and is able to drive and operate the station's 27 metre high ladder platform.
Before joining Fire & Rescue NSW Jim, 46, worked for Australia Post. He said he had a real desire to do something that made a difference, and wasn't finding it in his work.
"Not everything about being a firefighter is easy; you have to witness grief and loss at some incidents," Jim said.
"But everything you do; be it engaging with the local community through fire education presentations, replacing smoke alarms for the elderly, or school visits, has a purpose.
"And incidents where life and property are saved due to the quick response and professionalism of FRNSW are particularly fulfilling," he said.
Jim's parents were born in Greece and he speaks fluent Greek. He says his background helps with community engagement, translating and has given him a good understanding of the diverse communities FRNSW serves.
He said he would recommend a career as a firefighter to people of all backgrounds because your actions can make a difference to the community you serve.
"A good firefighter requires a number of traits but I believe the most important to be empathy, a willingness to make sacrifices, courage, discipline, a calm demeanour and being a team player."