Retained Firefighters
Retained Firefighters
Fire & Rescue NSW (FRNSW) is seeking adaptable, physically fit, team orientated men and women with a strong community spirit for employment as Retained Firefighters in their community.
Our world-class emergency service organisation relies on highly skilled, ethical and professional individuals from a variety of backgrounds. We are looking for people who can commit to Fire & Rescue NSW's values and contribute to fire prevention and emergency responses in their community.
Retained Firefighting involves night and weekend work, and can be at times physically, mentally and emotionally demanding. However a firefighting career is one of the most important, rewarding and well respected careers in the community.
All information on being a Retained Firefighter is contained on this website.
Frequently Asked Questions (under construction)
In registering your interest in becoming a Retained Firefighter and be eligible to apply you must:
Be an Australian Citizen, Permanent Resident or New Zealand citizen. If you are a firefighter from another country, you will still need to satisfy these requirements before applying.
Have a minimum of a red P1 Drivers Licence.
Reside or work within a reasonable distance from a Retained Fire Station to enable a prompt response to emergency situations.
Be physically fit and healthy.
Be prepared to undergo a national criminal records check and pre-employment health screening.
You will need to submit a short resume outlining your work history and educational qualifications.
Apply or register your interest NOW!
Or call 1800 Firies (1800 347 437)
Meet our Firefighters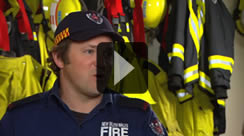 Retained Firefighter, Marty
Marty is a small business owner and retained firefighter with FRNSW for nearly six years. Marty is one of hundreds of self-employed people who make a great personal sacrifice when they temporarily close their business to attend fire calls in their local community. Marty enjoys his role as a retained firefighter and encourages others to consider joining FRNSW. Watch Marty's video here.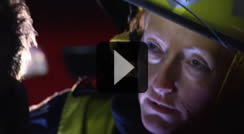 Retained Firefighter, Lucy
Lucy is a business admin manager and retained firefighter with FRNSW for the past six years. Lucy's employer is one of thousands of flexible businesses in NSW who recognise the value of having a retained firefighter on staff. The training provided by FRNSW to retained firefighters allows them to often step up to handle situations they wouldn't normally encounter in everyday life. These experiences can be a great way to develop personally and professionally. Watch Lucy's video here.