About us
Our Commissioner
Our Commissioner
Commissioner Paul Baxter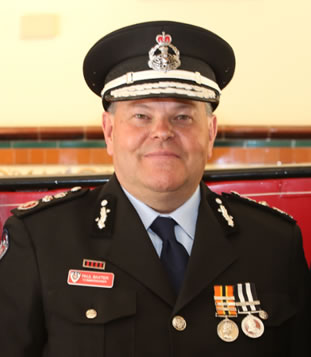 Paul Baxter was appointed Commissioner of Fire & Rescue NSW on 16 January 2017. Commissioner Baxter was previously National Commander of the the New Zealand Fire Service and the National Rural Fire Authority, which comprises 10,000 volunteers and 2,200 career staff serving at 650 fire stations nationally. He has more than 30 years of fire service experience, originally serving as a volunteer firefighter, then as a firefighter with the New Zealand Air Force. He became a full-time firefighter with the New Zealand Fire Service and worked through the ranks until being appointed as National Commander a year after the 2011 Christchurch earthquake.
In addition to his firefighting credentials, which included being on an incident management team during the 2001 Christmas bushfires in NSW, Commissioner Baxter was a volunteer ambulance officer for many years. Recently, in partnership with St John Ambulance, he implemented a co-responder program between the fire service and ambulance service in New Zealand which is credited with saving many lives.
Commissioner Baxter is highly qualified and experienced in firefighting, rescue, disaster management and senior command. He holds a degree in business, is a certified company director with the New Zealand Institute of Directors, has studied advanced management at the Melbourne School of Business, is a Fellow of the Institution of Fire Engineers, a Member of the New Zealand Institute of Management, and has completed the Executive Fire Officer Program at the United States Fire Academy.
When Commissioner Mullins stepped down recently as President and Board Chair of the Australasian Fire & Emergency Service Authorities' Council (AFAC), Commissioner Baxter was elected to succeed him – the first New Zealander to hold this prestigious role. Until recently Commissioner Baxter was also Chair of the Asia Pacific Region of the UN's International Search & Rescue Advisory Group, and oversaw New Zealand's achievement of UN accreditation as a Heavy Urban Search & Rescue Task Force.
The New Zealand Fire Service is recognised worldwide as a capable innovative organisation largely due to Commissioner Baxter's leadership and focus on workforce engagement and innovation.